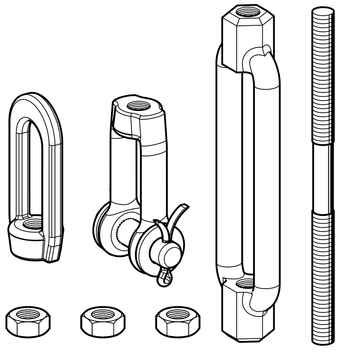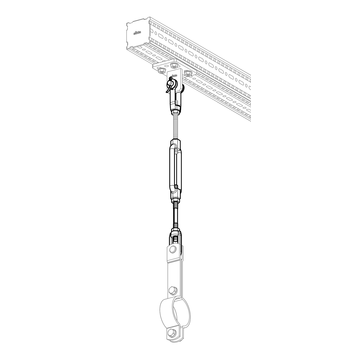 Group:
A299
---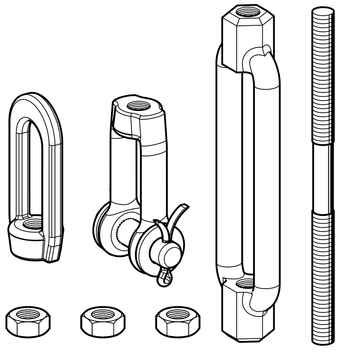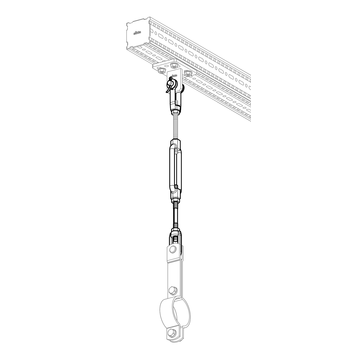 Application
The Rod Hanger Load Chain Assembly group connects components in the load chain with their counterparts, such as lugs, eye-plates and Pipe Clamp Stabil Form C LK.
Scope of delivery
Rod Hanger Load Chain Assembly LKV:
1 eye nut
1 threaded clevis with pin
1 turnbuckle
1 tie rod
3 Kontermuttern

The length of the upper threaded rod has to be determined and cut according to the overall suspension height required. In order to avoid unintentional rotation during assembly, the threaded clevis and turnbuckle components have to be locked off with 2no. hex nuts.
Installation
Preassemble the rod hanger components and connect to the Eye-Plate by means of the threaded clevis (push-through installation of pin to form complete rod hanger suspension from sub-structure). The turnbuckle enables adjustable height setting in the assembled state. In order to avoid unintentional rotation the threaded clevis, turnbuckle and eye nut have to be locked (3 hexagon nuts).
Technical Data
Type

max. perm. tensile load
[kip]

max. perm. tensile load
[kN]

M10
2.52
11.2

M12
2.72
12.1

M16
3.15
14.0
The implementation and construction requirements of the components, their design as well as their verifications and load tests were carried out following the standards VGB R 510 L part I, KTA 3205.3 and DIN EN 13480-3.
Type

combinable Type
Pipe Clamp C LK

LKV M10
22 - 89

LKV M12
22 - 89

LKV M16
115 - 324