Simotec – Off-the-shelf, adjustable height modular pipe shoes
As for the modular steelwork support systems, our adjustable height pipe shoes under the brand name "Simotec", follow the same principles of modular product design. With a standard pipe range up to 600NB (24"), the common modular components of each shoe base plate allow for an 'upgrade' to become a guide or fixed point by simply attaching the relevant bracket piece to the attaching Ibeam or siFramo steelwork.

Detailed Engineering / Piping Design Integration
All modular steelwork support systems and pipe shoes can be fully implemented into the detailed engineering phase, allowing for accurate modelling / clash-check control and generation of BOM breakdowns. Plant design and modelling software plug-in tools are available for these complete ranges.

Modular Steelwork Support System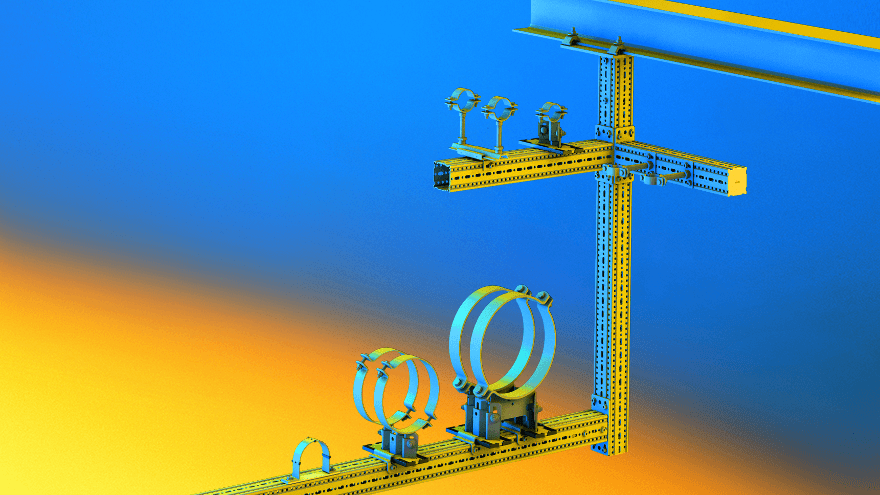 siFramo is a versatile modular steelwork support system for the construction of frames and supporting structures without the need for welded connections in either field-fit or fab-shop installations of the system. siFramo allows multidirectional connection possibilities without the need for through-bolts and back-plates. The box sections have a higher torsional resistance than conventional beam profiles but a significantly lower equivalent weight (lbs/foot).
siFramo sections are available in metric sizes:
3 mm (11 gauge) - 80/30 and 80/80
4 mm (8 gauge) - 100/100 and 100/160
siFramo connectors are assembled to the sections using thread forming screws, thereby offering a superior process-reliable vibration-proof fastening.  
One system - many advantages:
No welding to connect the system together. No hot works permits required.
Higher performances achievable relative to lower overall weight of steel
Maximum flexibility, minimum installation time
Modifications to the installation can be made quickly, with no need to fully disassemble the connecting component
Parts reusable. Minimal to zero waste
Compatible with primary steel structure or when fastening support to concrete
One thread-forming screw for all system component connections
System compliance with the quality requirements of ISO3834 / IIW
Plant design and modelling software plug-in tools available
Special coatings available for highest corrosion resistance requirements
Downloads
Adjustable Pipe Shoes
Like our steel-framing-systems, our adjustable pipe shoes under the brand name "Simotec", follow the principles of modular product design. The combination of base plate, adjustable web and pipe clamps forms a range of pipe shoes for up to 600NB diameter. Modular components allow for an "upgrade" of any individual pipe shoe to become a "guide" or a "fixed point" both, by attaching to existing traditional steel or by adapting to our Sikla-specific steel sections.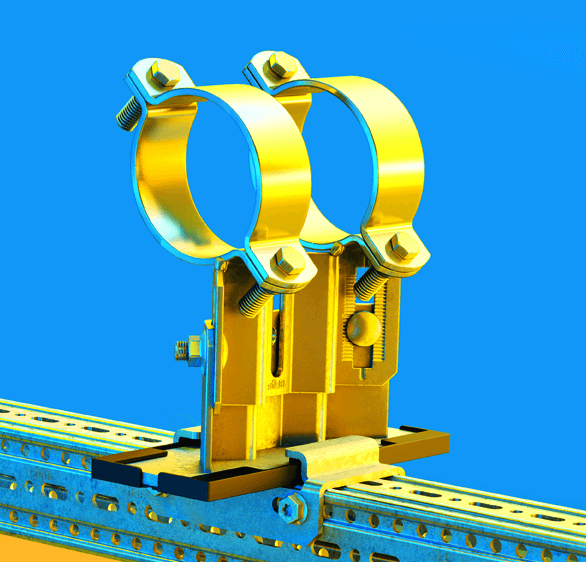 Benefit from the advantages!
Benefit from simplified stock logistics.The combination Slide Support + Set allows to build either a Guided Support or a Fixed Point, according to the requirements.
Guided and fixed point sets are available for all common beam sizes e.g. siFramo, STF 120, as well as for normed profiles.
Higher loads and simple height adjustment by means of the innovative design.
The complete modular system is integrated as a sub-library into all current software-planning aides